From the Website of PHIL. STAR
links:
http://www.philstar.com/headlines/2014/07/02/1341628/pnoy-can-be-impeached-over-dap-case-will-fail-miriam
PNoy can be impeached over DAP but case will fail - Miriam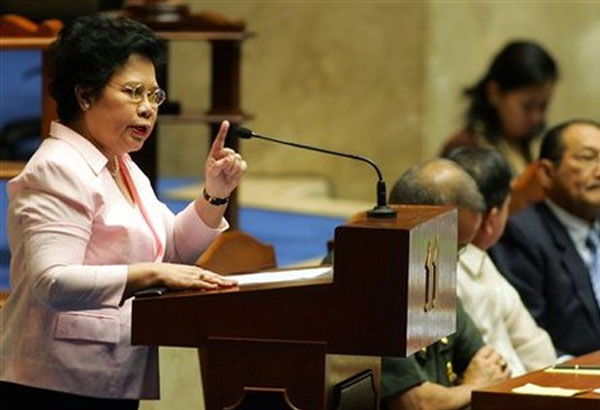 MANILA, Philippines — President Benigno Aquino III can definitely be impeached over the Disbursement Acceleration Program (DAP), Senator Miriam Defensor Santiago said on Wednesday.
In a televised press briefing, Santiago said she will not blame those who would attempt to pursue Aquino's impeachment after parts of the controversial DAP were declared unconstitutional by the Supreme Court (SC) on Tuesday.
She said Aquino committed culpable violation of the Constitution and violation of the principles of accountability and responsibility.
"Theoretically, yes it is (possible for Aquino to be impeached), because it will be a violation of the Constitution, as the Supreme Court already said," Santiago said.
But the senator reiterated her stand last year that an impeachment case against Aquino will not succeed since both houses of Congress are dominated by the President's allies.
"I think it is bound to fail," Santiago said.
Headlines ( Article MRec ), pagematch: 1, sectionmatch: 1
Following the high court's decision on the DAP, Kabataan Partylist Representative Terry Ridon said they will prepare all necessary charges against officials involved in the implementation of the controversial fund scheme.
Ridon said the SC ruling could be used as a "solid ground" for culpable violation of the Constitution and betrayal of public trust, both of which are impeachable offenses.
"It will greatly bolster the case against President Aquino," said Ridon, one of the petitioners in the high court against the DAP.
Introduced by the Aquino administration in 2011 to supposedly boost the economy, the DAP realigns government savings from stalled projects to speed up other programs.
After earning criticisms last year, President Aquino himself defended the fund scheme in a rare speech on primetime television.
"The DAP is not theft. Theft is illegal. Spending through DAP is clearly allowed by the Constitution and by other laws. DAP is only a name for a process in which government can spend both savings and new and additional revenues," Aquino said in his speech in October 2013.
---
PROTECTION AND PROMOTION OF HUMAN RIGHTS
---
------------------------------------------------------------------------------------------
-----------------------------------------------------------------------
---------------------------------------------------