From the Website of INQUIRER
links: http://newsinfo.inquirer.net/777521/palace-vows-thorough-impartial-probe-on-kidapawan-clash
-------------------------------------
Palace vows 'thorough, impartial' probe on Kidapawan clash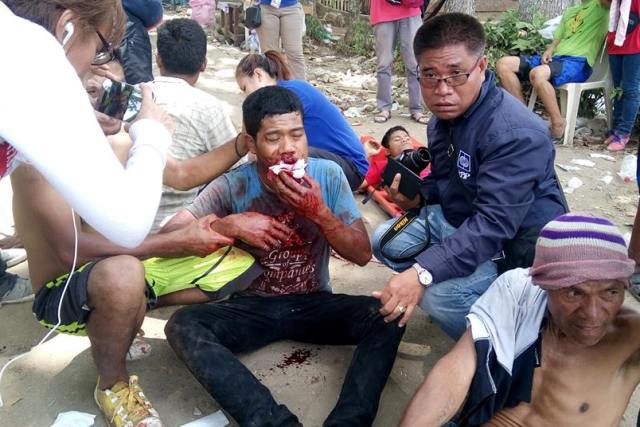 Malacañang on Saturday vowed a "thorough and impartial investigation" on the bloody dispersal of drought-stricken farmers in Kidapawan City, North Cotabato.
"I believe it is fair for all of us to expect and require thorough, impartial investigation. There is no reason why people must die in order to be asking for assistance from their own government," Communications undersecretary Manolo Quezon said in an interview over state-run DZRB radio.
Quezon described the violent dispersal as a "heartbreaking tragedy," saying the "farmers deserved better than to have to suffer to receive assistance and aid. All the more so because the assistance and aid is there, they have to go through the process and this is really, this compounds the tragedy."
The Palace official expressed its sympathies to the victims of the bloody clash between farmers and policemen and called for sobriety amid the bloody incident.
"There is no reason why a tragedy must be compounded by hotheaded statements or rushing to judgment. It will not help anyone," Quezon said.
"There's a tremendous number of wounded people on both sides. Lives have been lost and we owe it to ourselves as a society and to the farmers themselves and people in the affected areas to find out what exactly happened and why it did lead to this," he added.
At least two farmers were dead and several others were wounded after the bloody dispersal of protesters, who were demanding relief and subsidy for farm communities affected by the dry spell. Protesters said police authorities fired the first shot, while the Philippine National Police said it is investigating the incident as some of its officers were also injured.
Quezon also addressed the various video footages circulating online, showing what happened during the incident.
"And this is what has to be investigated, alam mo naman, especially under a tragic situation where everyone is really heartbroken over what has happened. Kakalat ang bintang, misinformation, agenda setting at bigla na lang maraming makiki-ride doon sa issue. Lahat ng bagay na 'yun, hindi nakakatulong sa mga nasaktan at namatay," he said.
Quezon said a proposed solution to the plight of drought-stricken farmers was to go to their respective barangays and register for the cash-for-food program and receive family packs from the Department of Social Welfare and Development.
"May proseso kasi e and yet for some reason this proposal and the repeated proposals were refused which to my mind makes for something that we should try to figure out why this was the case when a concrete solution to end the hunger right away was rejected," he said.
Asked about President Benigno Aquino III's comments, Quezon said, "The President has always been very firm about the need to exercise maximum tolerance to maintain discipline among the ranks of the police."
"He has never been one to back down from demanding and insisting and requiring a thorough, impartial investigation and let the chips fall where they may as a result of that. What he has never done is rush to judgment and to speak imprudently, particularly in an instance when lives are lost," he said.
He said Aquino would "refrain from making any statements until he has fully studied the matter and is given and is satisfied with all the answers that he has received as a result of demanding an impartial and thorough investigation."
Tensions rose again between cops and farmers on Saturday morning as the authorities, backed by a search warrant for firearms, barged in the Methodist Church compound where the protesters have been staying in. JE
OTHER HUMAN RIGHTS PROMOTIONS WEBSITES
---
PROTECTION AND PROMOTION OF HUMAN RIGHTS
---
-----------------------------------------------------------------------------------------------
------------------------------------------------------------
-----------------------------