From the Website of GMA NEWS
links:
http://www.gmanetwork.com/news/story/281866/news/nation/phl-australian-officials-discuss-aussie-participation-in-balikatan-exercises
(Updated 1:22 p.m.)
Sen. Ramon "Bong" Revilla Jr. surrendered to the Sandiganbayan before noon Friday, after the anti-graft court signed a warrant for his arrest in connection with the P10-billion pork barrel fund scam.
Revilla, wearing a white polo, arrived aboard a van that passed through the court compound's back entrance, radio dzBB's Rowena Salvacion reported.
The
senator lost no time in filing a motion for bail
but also asked the court to send him to Camp Crame for detention in case the bail petition is denied, according to his lawyer Joel Bodegon.
Shortly after noon, the court granted Revilla's motion to be detained at Camp Crame, said the clerk of court. He was to be brought to the Criminal Investigation and Detection Unit.
Revilla arrived at Camp Crame past 1 p.m. and
will undergo booking procedure
.
Revilla's lawyer, Joel Bodegon, insisted however that his client did not surrender, describing the senators' decision to go to the Sandiganbayan as a "voluntary submission."
Revilla was accompanied to the Sandiganbayan by his wife, Cavite Rep. Lani Mercado-Revilla; sons Jolo and Bryan; daughter Loudette and Gianna; and grandson Gab.
His sisters Andrea Yñares and Rowena Bautista, and brother Ram were also with him.
Media crews mobbed Revilla while security personnel of the Sandiganbayan tried to keep media at a distance so the senator can formally surrender to the graft court.
Supporters of the senator managed to get near the area.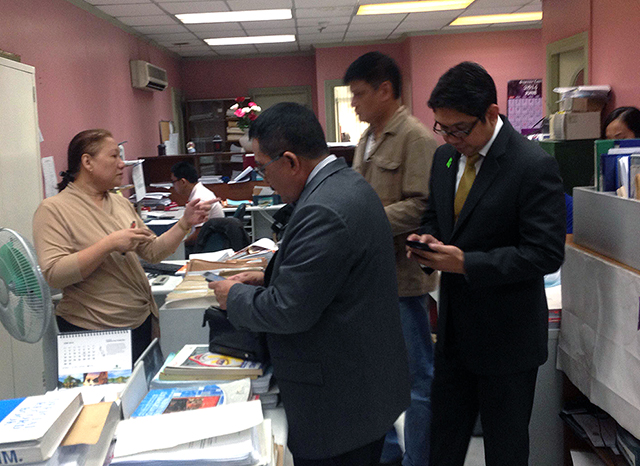 The lawyers of Senator Ramon "Bong" Revilla Jr. on Friday, June 20, asked the Sandiganbayan First Division to allow him to post bail for the plunder and graft charges filed against him in connection with the alleged P10-billion pork barrel scam. Amanda Fernandez
Revilla was at the Sheriff's Office as of 11:19 a.m.
Earlier, Revilla said there is no need to arrest him as he will surrender to the court. Plunder is a non-bailable charge.
On the other hand, Associate Justice Efren Dela Cruz recommended a P30,000 bail bond for the graft charges.
Meanwhile, lawyer Richard Cambe, Revilla's legislative staff who is also facing plunder and graft charges, is expected to surrender to the court within the day.
A source said he is just near the Sandiganbayan premises.
Lawyer Remigio Michael Ancheta, Cambe's counsel, said they will be filing a petition for bail on Monday.
— Joel Locsin and Andreo Calonzo/LBG/KG/RSJ, GMA News